In the summer of 2018 The National Interagency Fire Center in Boise, Idaho, warned high temperatures, drier conditions, decreased snowpack, and large amounts of grass posed an "above average to extreme" wildfire risk.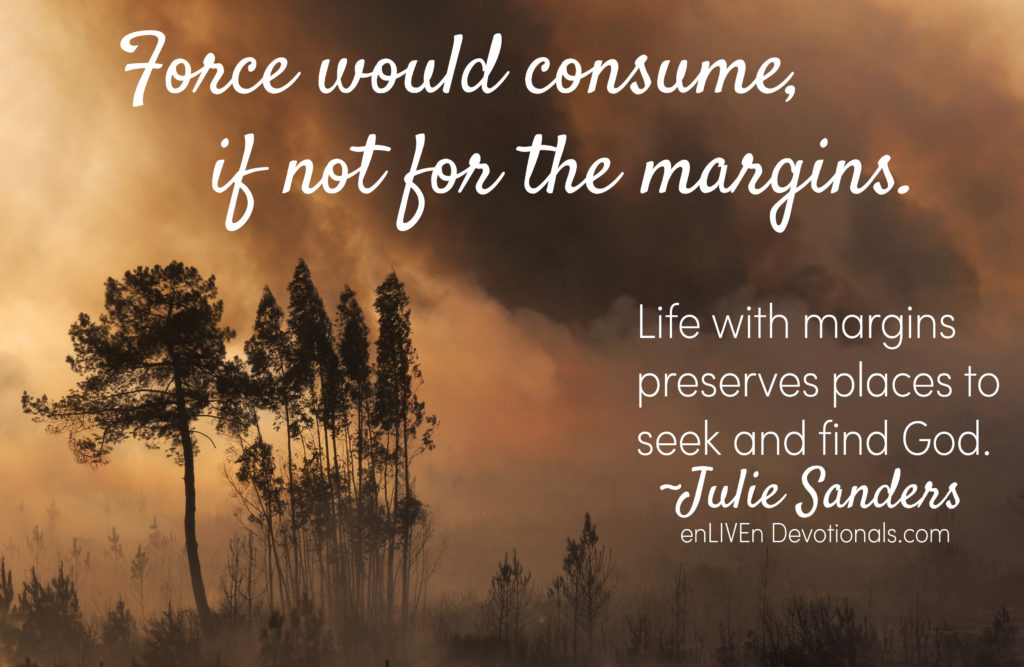 Danger increased due to population growth and suburban sprawl where homes litter brittle burn-prone forests. By the time July ended, over 2 million acres had been burned by wildfires in that single month. If not for margins put in place before the first spark, the damage would've been more widespread.
Scan western hills or plateaus covered by prairie grass, sage, or ponderosa pine, and your eyes will catch what appears to be lines etched out of the dry soil. They didn't form on their own. They were placed. Purposefully placed. Tracks expose where equipment carefully cut into the land to mark boundaries, the margins, between farms and fields, pastures and plains. These edges not only define the work and lives of those within, but they carefully set limits for those moments when energy becomes flame and flame becomes force and force threatens not to stop. And force would consume, if not for the margins.
We are meant to have places of restoration, perspective, and protection where we thrive. Life with margins preserves places to seek and find God.
Margins lie on the outer edges, in quiet places, sometimes lonely places. To want to retreat there can feel like a refuge, but to find yourself left there can feel like a punishment. Only out there is it possible to look back at what's within, to see the big picture we would miss if we stayed securely in the center. There is perspective and purpose to be found when we venture far out to the boundaries we may have set or secured initially for our sanity and our good. We were always meant to have margins in our lives.
"And he made from one man every nation of mankind to live on all the face of the earth, having determined allotted periods and the boundaries of their dwelling place, that they should seek God, and perhaps feel their way toward him and find him. Yet he is actually not far from each one of us" (Acts 17:26-27  ESV).
The Good News translation says it this way, "From one human being he created all races of people and made them live throughout the whole earth. He himself fixed beforehand the exact times and the limits of the places where they would live. He did this so that they would look for him, and perhaps find him as they felt around for him. Yet God is actually not far from any one of us" (Acts 17:26-27 GNT).
By attaching boundaries to the times and places of the lives of individuals and nations, God steers us to seek and find Him. By setting margins around our time and lives, we position ourselves to find Him in the midst of life's ordinary and extra-ordinary moments. After all, fire is a natural part of life, capable of cultivating growth, but also capable of destruction when out of control. Sometimes everything threatens to break through boundaries we've put in place for our good. When the winds of change or challenge stir the embers of life into flames threatening to undo us, firebreaks ensure we thrive within the fixed spaces of our lives. Without these edges of refuge and stillness, the very fuel of our passions and productivity may consume us.
Life with margins preserves places to seek and find God.
Scripture
"From one man he made every nation of the human race to inhabit the entire earth, determining their set times and the fixed limits of the places where they would live, so that they would search for God and perhaps grope around for him and find him, though he is not far from each one of us"  (Acts 17:26-27 NET).
Abide
Father,
You have set the exact times and limits of where my life will unfold. I want to know You more, and I'm so glad you're near. Give me wisdom, Lord, to know how to create and keep margins in my life to align with the boundaries You set for me. Please contain the hard things of life, so they are used for my good. Help me thrive in these marginal places of restoration, perspective, and protection. In these places I remember You, find You, and follow You.
Amen
Overflow
Using this frame, complete this thought by describing a margin in your life and one way God used it to protect you or provide for you. 
Because of the margin in my life where _________________ I was kept from ___________.  
Because of the margin in my life where _________________ I was kept for _____________.
Writer
Julie Sanders
Julie's family calls the Pacific Northwest home, where firebreaks protect sage, grass, and pine covered land. In serving families across the region and raising her own now-grown children, Julie believes carving margins into life's landscape is essential to find the peace we're meant to know. She writes from her online home Come Have a Peace. http://www.juliesanders.org
You can find Julie at Come Have a Peace, Facebook, Twitter, and Pinterest.