One day in my early teens, a group of the neighborhood boys went out to the school to play basketball. I had no idea that this particular game would be reflective in my life for the next six decades. The two best basketball players in our community lined up to choose teams. I went there hoping to be selected by one of the team captains.
I was a tall, gangly young boy who, because of my upbringing, had not been allowed to play basketball with the neighborhood kids. My father was very strict and did not want us doing anything that would take us away from our relationship with the Lord Jesus or our duties to our local church.
On this particular day, Joeboy and another kid who were the best in the neighborhood were choosing their teams. After having chosen two or three boys each, out of the blue, Joeboy chose me! I was so grateful, I could hardly contain myself! I had just been chosen by someone who could have been the best basketball player in the community. Normally boys who lacked talent or experience, such as myself, were used only as substitutes while the better players hurriedly got a drink of water. As you can imagine, those players always gulped their water down so fast that the subs were hardly ever given more than one or two minutes to play, but this day was unlike all the other days. Joeboy had chosen me; therefore, I saw myself as special; to play on Joeboy's team had placed me in an elite category.
I played harder that day than at any other time in my life. I played fearlessly, diving for loose balls and jumping higher than ever to get rebounds. I did this not for me. It was all done for Joeboy. I wanted to show my gratitude to Joeboy for having chosen me! I was not looking to score. I was not looking to bring any attention to myself. My one goal was to get the ball to Joeboy. He was a great shooter, and I wanted him to receive all the glory for having chosen me. It did not matter whether my knees were scraped or the asphalt on which we played was hot and uncomfortable. The surface underneath my feet was not my concern, nor the possibility of receiving an elbow to my face. My chief concern was to show Joeboy how thankful I was to have been chosen.
Sometimes, because of our difficulties, we are robbed of these teachable moments and never learn what God is saying to us through ordinary events. When I think about Jesus, how wonderful He is and that He has chosen me, I am beside myself with joy and appreciation! It does not matter what might happen to me in the process; my joy is in bringing glory to the One who chose me!
Jesus chose you and me, and rather than losing focus because of negative situations or circumstances, our one goal should be to reach as high as we can, run as far as we need to for the One who sacrificed His life for us.
Click To Tweet
My story reminds me of the words of Jesus, "you did not choose Me, but I chose you" (John 15:16). Peter echoes these precious words, saying, "but you are a chosen generation, a royal priesthood, a holy nation, His own special people, that you may proclaim the praises of Him who called you out of darkness into His marvelous light" (1 Peter 2:9).
I cannot remember much that happened at the end of the game. I do not remember Joeboy coming to me with congratulatory remarks. It was not important whether or not he praised me; what mattered was I had had the best time of my young basketball life. I had played my heart out for one person and one person only. My reward was that I had given everything that day to the only person that mattered on that court: Joeboy, the one who chose me. My goal that day was not to be praised, but to please.
Jesus is my focal point. I am so grateful that He chose me.
Click To Tweet
Therefore, I have endeavored to leave everything on the court of Life. I am not interested in showing people the scars that I received from doing service for the One who chose me. It is, however, with great delight and anticipation that I look forward to seeing Jesus face-to-face–He Who died for me so that I would have eternal life! I am not looking for praise or gratification in this life. All I want is to be in the game every day, giving myself with joy to my Savior. Perhaps, you too have felt sidelined, underappreciated, or forgotten! God has not forgotten you, He knows your name.
I can still feel the emotions of that young gangly kid whose only goal was to be a blessing that day. I had blessed the one who made me significant among all the kids. I was on the best team that day. It was the best team not because of my abilities but because I was on Joeboy's team. Joeboy was the best player in my neighborhood, but Jesus is the absolute best Lord and Savior in the universe! No one has ever come close; and He chose you!
Scripture 
"We know, dear brothers and sisters, that God loves you and has chosen you to be his own people" (1 Thessalonians 1:4 NLT).
Abide
God, I thank You for choosing me. I am called, loved, anointed and favored because of the grace You extend through Jesus Christ. I want to glorify and praise You for the life of purpose You have gifted me. I desire to live each day, performing my very best for the best Lord and Savior in all the universe.
Overflow
Today, let us show our gratitude to God for choosing us has His special inheritance (Ephesians 1:18). He has given us this life to play to our best abilities for His glory. How can you show God honor with your words and actions? Is there in area of life that you have been performing out of duty, rather than appreciation?
Writer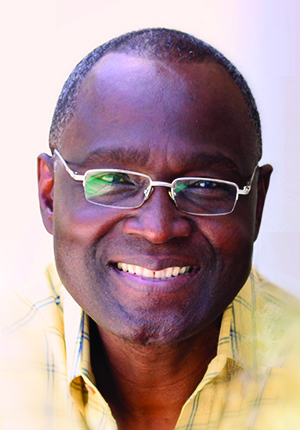 Donald G. Leavell, otherwise known as Pastor Don, is the Senior Pastor of a local church in Corpus Christi called, Corpus Christi Christian Fellowship, and the founder and President of a worldwide ministry called, The Fellowship International. Even though Pastor Don is a world-renowned preacher, teacher, and speaker, it is his heart for people that shines the brightest. The love of God is expressed through Pastor Don in a powerful way, as he fathers, disciples, trains, equips, and pours out all the Lord has given him into so many others. He has been husband to the lovely Marva Leavell for 49 years, and we expect many more years to come. Pastor Don and Marva have two wonderful children, a son and daughter-in-law who are true blessings to them, and they have six bright and beautiful grandchildren.
You can find Pastor Don at Facebook, Twitter, Instagram and Youtube.