This year was to have been my 5th year riding in The Agony Ride, a 24-hour road bike fundraiser for Christian Encounter Ministries, a Christian ranch for troubled teens. I had diligently pedaled many miles, pursued sponsors, fine-tuned my bike, and gathered all my gear. I was ready—or was I?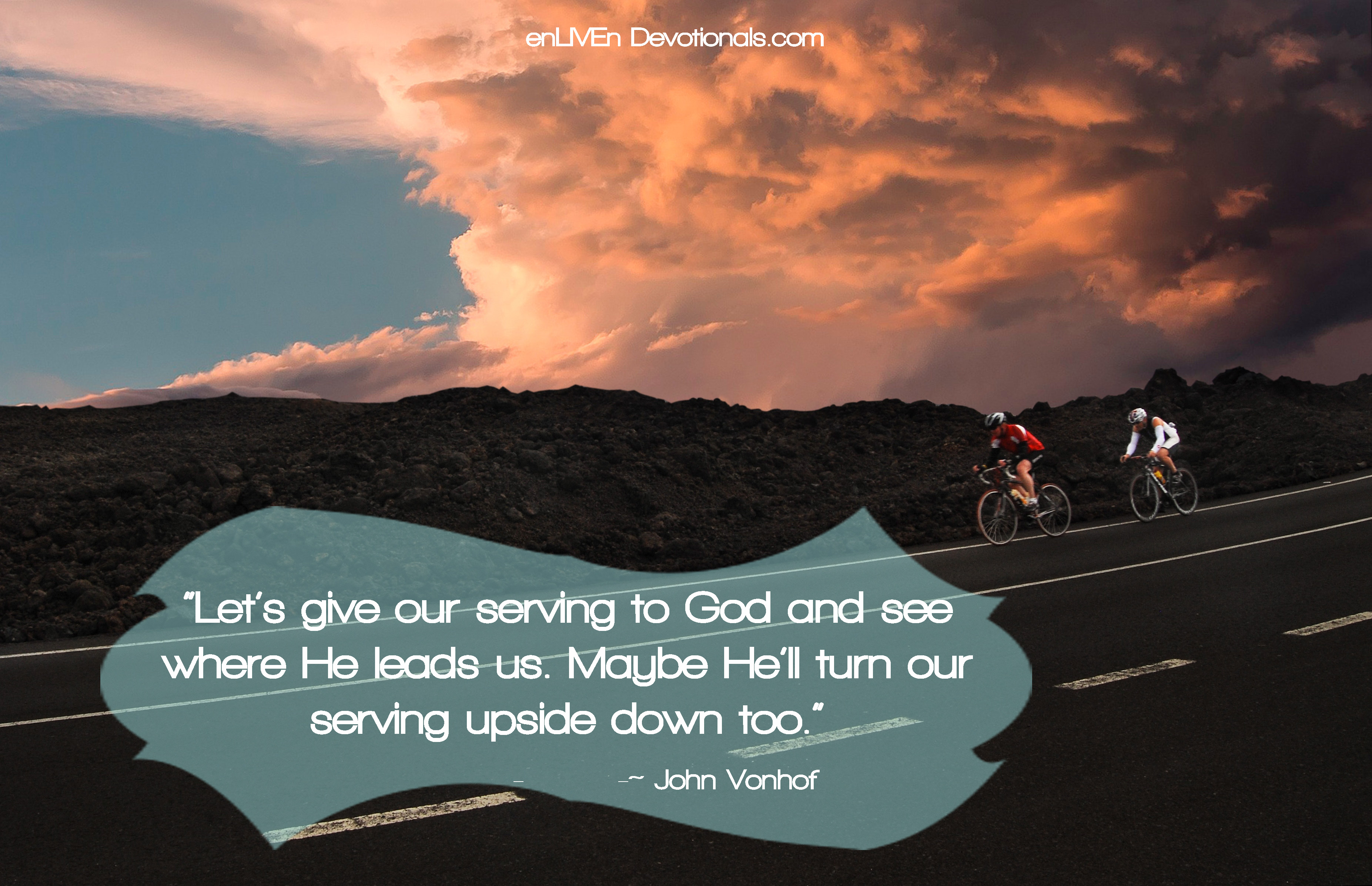 God sometimes turns things upside down in our lives, which leaves us wondering why. Why when plans were made, life was comfortable, and we had looked forward with anticipation to fulfillment of a dream, vacation, gathering, or an event?
Four weeks before the ride, I came down with an intestinal bug that made riding for hours uncertain—especially when bathrooms at the event were far apart. Driving to the ride location, I knew God had other plans for me, but I drove there anyway. I love to serve and knew there would be things I could do.
It was hard to watch the 83 riders begin their 24-hour rides—without me. There was excitement in the air as they were cheered on. Once they left, it was easy to find things to do. I help put up pop-ups, move tables and chairs, stock and restock ice and supplies for the riders, and helped with checking online pledges that had been sent by sponsors. As riders came through the main checkpoint, every 38 miles, I talked with them, giving encouragement and a listening ear. I met teens from the ranch, ranch interns and staff, other volunteers, and family and friends of the riders. Their energy, excitement, and support for the riders was contagious.
While I had months of planning and training to build my expectations of this year's ride, I had only a short time to shift my expectations on what I could realistically do. It would have been easy to stay home and wallow in self-pity for not being able to ride. I gave the 24 hours over to God and let Him guide me in what to do. Was I disappointed? Sure, for a little bit as I watched the riders having fun and riding for the cause. But I had fun finding ways to help, meeting people, and connecting with people God brought to me.
Near the end of the 24 hours, I felt well enough to ride. People had sponsored me and I didn't want to let them down. I got ready and then had an intestinal set-back. An hour later, I rode off and was able to ride 42 miles before the 24 hours ended. While I fell way short of my 250-mile goal, I was happy. God had turned my serving upside down. Refocusing my expectations had blessed me more than if I had just ridden. I was able to see the ride from a different perspective—as a helper, and in the end, as a rider too.
Scripture says, "For I know the plans I have for you," declares the Lord, "plans to prosper you and not to harm you, plans to give you hope and a future." (Jeremiah 29:11, NIV).
Yes, God changed my plans, my expectations. In the unknown of the days leading up to the ride, I had to give it to God and let Him lead.
I was blessed spending time with people I would not have met had I been only riding. People cared for me while I cared for them. I was blessed helping riders ride as far as they could. Hearing their stories of their ride blessed me many times over. Seeing the teens' excitement as they wondered in amazement that so many riders would do all this for them was heart-warming.
How often do we serve by doing the lowly and mundane jobs—out of the limelight? Is it more rewarding to serve when we are seen serving?
Let's give our serving to God and see where He leads us. Maybe He'll turn our serving upside down too.
Click To Tweet
Scripture
"God is not unjust; he will not forget your work and the love you have shown him as you have helped his people and continue to help them" (Hebrews 6:10 NIV).
Abide
Father God, help us to give our expectations to You and allow You to show us new ways, new adventures, new blessings, in order to bless others, and be blessed by them.
Overflow
Serving others may not put us in the limelight, but it does touch God's heart. We are each called to serve others–offering our support, encouragement, and prayer. Find someone you can bless today with your attention and care.  Or attend an event and instead of participating in the fun, go to the trenches and serve the people involved.
Writer
John Vonhof loves to serve others. He's also a freelance writer and author, podcast host, cyclist and lover of Jesus. He has authored several books, The Pastoral Search Journey and Fixing Your Feet. Because of his skill at patching athlete's feet at endurance events, he has washed and worked on thousands of feet—and loves serving in this unique way. John also serves and speaks at writers' conferences.
You can find John at his Blog, Twitter, Podcast and Amazon Author Page.