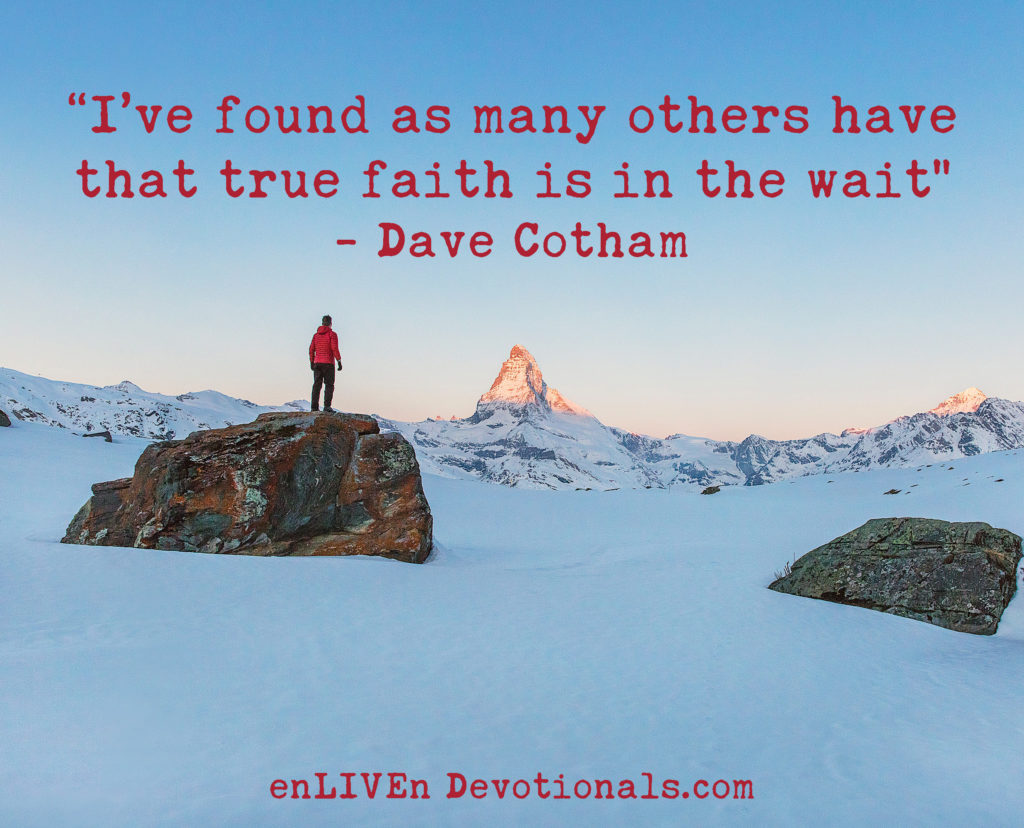 Much of my younger life was spent running from God rather than running to Him. At age 46, I finally reached a place of brokenness that left me crying out for God's mercy and grace. And He lovingly lifted me out of that dark place and into His light. Over the next several years, God began to tear down the walls of lies that had kept me from Him and smoothed off most of the very rough edges of my past.
Once God got hold of my life, I couldn't get enough of learning more and seeking to grow closer to Him. I looked at almost 50 years of what I considered wasted time, (although God never wastes time or experiences), and determined I had a lot of ground to make up, and fast! Along with the life-change, God gave me a vision and a dream, one that He would use to mold and shape me. And one that He would use to grow my character through the perseverance found in waiting. Dreams are never fulfilled immediately. I understood this, yet I was still holding on to some of my independent spirit and considered my timetable more realistic than God's. Wrong!
Over the past almost 20 years of seeking God's face and having the opportunity as a pastor to minister to many other Christians, I've found that one of the most common difficulties we all struggle with is waiting on God's timing. It's a dilemma all of us will face in our faith at one time or another, and one that God uses probably more than anything to grow us into the person He desires us to be. The Bible is filled with stories of those who have experienced God's waiting room. And the differences in their attitudes and actions determined their fate and their futures.
Abraham had to wait almost 25 years between the promise of a son and the actual birth of Isaac. Joseph endured hardships for nearly 14 years between his dream and becoming second in command of Egypt. David was anointed as king as a teenager, yet he faced 15 years of trials and deadly struggles before actually being crowned. The Israelites wandered for 40 years before entering the Promised Land. In each of these examples, faith was tested, lessons were learned, and people waited.
We can be sure in each of these stories that there were times of doubt, fear, and worry. What they did with those enemies of faith made a difference in the way each of their stories played out. Through doubting God's timetable and taking matters into his own hands, Abraham created Ishmael, an act of self-reliance that would impact nations, and literally the world, for generations to come. The doubt, fear, worry, and complaining of the Israelites led them on a 40-year journey that should have only taken 11 day—a period of time that left an entire generation dead along the way.
On the other hand, Joseph remained diligent and faithful, even through severe trials, and received his dream according to the perfect timeline God had laid out. David cried out in anguish in the Psalms but refused to take matters into his own hands, even when he had the opportunities and was encouraged by his men to deal personally with Saul. David's reward came with his crowning—a promised fulfilled in God's timing, not in his own.
I have also struggled with the timing and the waiting in the vision and dream God has given me. I have to say there has been doubt, there has been fear, and, as bad as I hate to admit it, there has been worry—even though I rebuke them with Philippians 4:6.
"Do not be anxious about anything, but in every situation, by prayer and petition, with thanksgiving, present your requests to God" (NIV).
In the midst of a difficult time of questioning why God would have given me a dream and allowed me to take it almost to fruition, only to have it almost seemingly die, God gave me something to hold on to. God asked, "Dave, how do you spell faith?" Contrary to what I thought, it's not F.A.I.T.H. It's W.A.I.T. Having prayed in the early days of my walk for God to help me grow in faith, He was graciously providing that training. You see, God loves us far too much to hurry the process. He's much more interested in what's going on in us than what's going on around us.
I've found as many others have that true faith is in the wait!
Click To Tweet
It's in those times when God prepares us, tests our obedience, and teaches us to trust Him. It's in those times when we grow to understand that God is bigger than a timetable and that He will always, always come through, if only we do not give up. It's in those times when God is growing us into the person He desires us to be, not the one we think we ought to be.
The purposing of the wait in our faith is seen in the law of the harvest.
There is always a delay between the sowing and reaping.
Click To Tweet
We plant in one season and then we reap in another. God wants to see if we will continue cultivating and sowing, even when we don't see the anticipated results as soon as we think we should. He will surely bring the harvest. But, it won't come immediately. We can be at peace knowing that He will surely complete His work in us, as we spell our faith, W.A.I.T.
Scripture
"Yet I am confident I will see the Lord's goodness while I am here in the land of the living. Wait patiently for the Lord. Be brave and courageous. Yes, wait patiently for the Lord" (Psalm 27:13-14 NLT).
Abide
God, help me to trust Your timetable while I'm in the waiting room of my faith. I know it is here that You are doing Your best work in my life. I want to humbly and completely seek Your face and presence above all else. I know that I can rest in knowing that Your perfect plan will be accomplished in Your perfect time.
Overflow
It's easy to get self-centered in God's waiting room, thinking everything revolves around us. However, God reminds us that it's not always about what we do. God's Master Plan in our lives involves other people and other areas we may not even be aware of until years later. In those times of waiting, not knowing what to do next, we can simply learn to wait. Are you trusting God for His promises? Can you wait patiently on Him without allowing discouragement and doubt to creep in?
Writer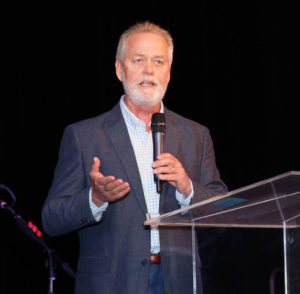 Pastor Dave Cotham is the Executive Director of Majesty Outdoors, an outdoor television show spotlighting a fatherless teen on each episode, and bringing awareness to the fatherless epidemic in our country. Their TideChangers program partners with churches across the nation to establish mentorship chapters for fatherless youth. TideChangers uses curriculum based around the outdoors to develop personal, social, cultural, and spiritual growth, and to give hope to this next generation of leaders.
Dave also served on the pastoral team at Church Unlimited, formerly Bay Area Fellowship, for 9 1/2 years. His role as Executive Pastor of Spiritual Development included leading the Life Groups ministry, God Behind Bars prison ministry, Celebrate Recovery, and developing curriculum for Bible studies and discipleship classes. Dave also helped launch and then pastor the Padre Island campus for Church Unlimited for 8 years.
Dave has served in the ministry alongside his wife of over 30 years, Mary Ann. They are blessed with three incredible children and seven grandchildren. Jennifer and Chris have Landon, Averie, and Olivia. Leo and Sabrina have Ian, Bryson, and Zane. And James and Caitlin have Harper, (and one on the way). All of them live in Corpus Christi and regularly spend time together as a family enjoying all the love God has poured into their lives.
Dave's prior experience includes 20 years in the US Postal Service with the last 15 of those in upper level management.
Dave grew up in the outdoors with his dad and family spending much of their time camping, fishing, and hunting. This love of the outdoors has carried over to his family. With the grandchildren coming along it has become a primary focus for his family and for ministry of helping this next generation come to know and love God and all the beauty and splendor of His Creation.
Dave's passion is identifying and raising up leaders and passing on God's life lessons to those next generations of future leaders.
You can find Dave at MajestyOutdoors.org and Facebook.