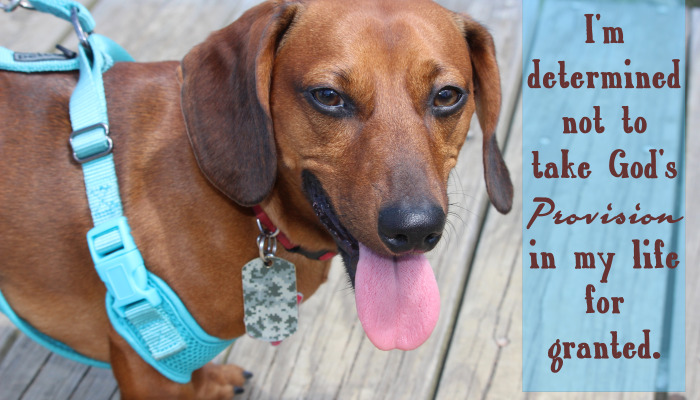 My dachshund, Rusty, is a dog food snob. He would rather beg table food or chomp down dog biscuits than eat his healthy, tailored made dog food. One morning before leaving the house, I wanted to give Rusty a couple of his favorite dog biscuits. However, it was a cold day, so he was upstairs in our bed, snuggled up under the covers.
I decided to leave him his favorite snacks downstairs, so when hunger and thirst forced him out of his comfortable slumber, he would have the biscuits waiting for him. I placed his two delicious treats in his dog dish–right on top of his usually ignored dog food. I stared at the two biscuits for a moment and wondered how surprised he would be to find his favorite food on top of the food he begrudgingly ate!
Several hours later, I came home. Rusty greeted me at the door, and I went straight to his dog dish to see if he found his special surprises. When I walked to his dish, I saw his two delicious treats just sitting there uneaten! He never found the biscuits I gave him because he ignored the food that we regularly provided for him.
And I wondered how often Christians ignore the special surprises God has for us in the areas of our lives that we take most for granted. We complain about doing dishes, yet we are blessed to have food to eat and dishes to eat on! We complain about laundry, yet we are blessed to have clothes on our back that not only protect us, but make us feel and look good. We complain about our jobs, yet we are blessed to earn a living in order to provide for our families and contribute to society! And this list goes on and on.
Maybe we've taken for granted the abundance for which God has placed in front of us, and we miss the small treats that He puts in our path. I have discovered that the truly beautiful blessings in my life are found in the normal, everyday moments of my day. I help one of my kids with homework, and I'm gifted a beautiful smile of a child who loves me. I cook dinner for my family, and I'm gifted the satisfaction of filling the bellies of my loved ones. I encourage my husband's dreams, and I'm gifted with a man who speaks affirmation into my life.
I'm determined not to take God's provision in my life for granted. And I will be on the look out for the small surprises He gives me throughout my day.
Memory Verse:
"And whatever you do,whether in word or deed, do it all in the name of the Lord Jesus, giving thanks to God the Father through him."
– Colossians 3:17 (NIV)
Prayer Prompt:
"Heavenly Father, please help me to not take Your abundant provision for granted. I know that everything I have has is from You, including the very life that I've been given. I thank You for all the blessings that I have everyday, including…"
Contributing Writer:
Alisa Hope Wagner
Faith Imagined.com