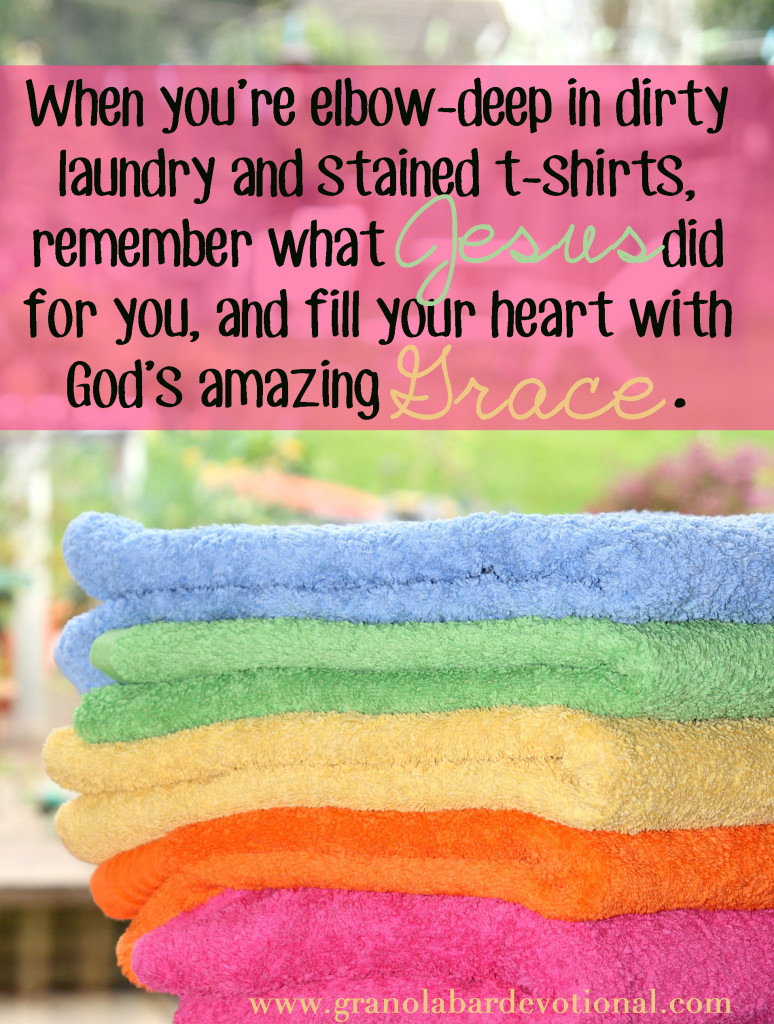 As I sat there in the middle of the living room floor, knees folded beneath me, the rhythm of the task at hand hummed in my mind like a familiar tune. Sort, fold, stack. Sort, fold, stack. Laundry is such a routine task, and not one of my favorites.
Yet, without warning, something else grabbed my attention. Stains. With two young and active kids, no amount of pre-soaking, scrubbing, or pre-treating gets out every single stain. Grass stains, slobber stains from a welcoming dog passing by, bubble-solution stains, wiping-my-hands-on-my-shirt-rather-than-a-napkin stains, ink stains, blood stains, paint stains. You name it – that stain has probably covered our family's clothing.
Sometimes it doesn't even matter if the clothes are washed in warm, cold, or hot water. Stain charts could be followed perfectly, but the stubborn stains just won't let go. They cling to garments like a baby clings to its mother in the nursery doorway.
Doing the tedious task of laundry without complaint, with vigor, and with a joyful heart seems good, at least in my eyes…my often self-righteous eyes. But God's view of my "good" is much different. He sees it just like the stained laundry.
"But we are all as an unclean thing, and all our righteousnesses are as filthy rags; and we all do fade as a leaf; and our iniquities, like the wind, have taken us away" (Is. 64:6, KJV).
At my best, all I have to offer God are filthy rags. But this I do know…
"What can wash away each stain? Nothing but the blood of Jesus.
What can make me whole again?  Nothing but the blood of Jesus.
Oh, precious is the flow that makes me white as snow.
No other fount I know. Nothing but the blood of Jesus."
Let those thoughts soak in for a bit as you pre-treat your heart with God's grace. We don't want blood stains on our clothes, yet the precious blood of Jesus makes us clean! God's word says, "if we walk in the light, as he is in the light, we have fellowship one with another, and the blood of Jesus Christ his Son cleanseth us from all sin" (1 John 1:7, KJV).
When you're elbow-deep in dirty laundry and stained t-shirts, remember what Jesus did for you, and fill your heart with God's amazing grace.
Memory Verse:
"But God commendeth his love toward us, in that, while we were yet sinners, Christ died for us. Much more then, being now justified by his blood, we shall be saved from wrath through him."
– Romans 5:8-9 (NKJV)
Prayer Prompt:
"Heavenly Father, thank You for giving us Jesus, the only One who can take away the stains of sin. Thank You for amazing grace and for His precious blood that was shed for us…."
Contributing Writer:
Erica Skattebo